human skin is porous / the world flows through like the wind / the faster you run, the more things that you've done / so to run is to pull it all in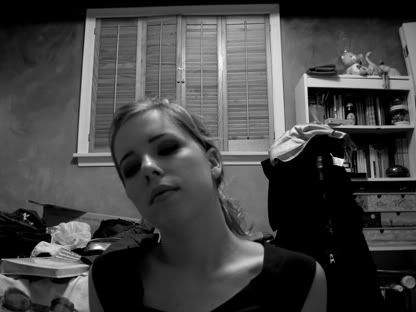 I just seem to put my foot in the door and have a couple decent sleeps to recharge, before the time arrives to head out. I don't unpack suitcases, because it will just make me less organized. I'm glad to see
alex
will sympathize with me very shortly as well.
I'm off to Montreal tomorrow morning. Among the most important things i'm taking 'with' me (and I never thought I'd say this) is this blog. Although it's gone for periods without updates, and some updates have been less than thrilling, it has been a fairly consistent record of sorts for the last couple years. Those who know me well know that I am obsessive when it comes to journal-keeping, and so my actual private notebook/scrapbooks will be coming with me as well. But this...not only has this blog been with me to Tanzania, it has come with me on all my travels, and even waited paitiently through the hectic, neglected weeks/months of the school year. Its readership may not be vast, but my readers seem to be loyal, and that is something I appreciate. I look forward to coming back here throughout the times to come.
I promise to be candid and creative.
I don't know what shape this will take throughout the academic year. Hell, I don't even know how the academic year will shape up. My profs are ready for me to be on the road to PhD land, and I'm barely scraping together the courage for my masters. I am happy to stay put in one city for a while, but I know my travel addiction will come creeping back soon enough.
The weeks since I've returned from Europe have been just what I needed; I've spent time with family and friends...and slept in my own bed instead of shared hostel rooms. Hostelling is great, but on the nights where your room is filled with the bodily stenches of others, or you find someone else's half-smoked, moist joint under your clearly-unchanged linens, or the unairconditioned temperatures steadily rise, you are ready for some alone time.
Speaking of alone time, Brian is already moved into Montreal and is unpacking boxes as we speak. He's also been threatening to have the whole place covered in skull posters by the time I arrive. We shall see how the decor unravels itself.
So, my former roomies and I are all split up in different cities: Monteal, Ottawa, Toronto, and
Washington
, DC for the next bit. It's going to be tough being apart, but having girls in all area codes will make for more interesting stories of bilingualism, the trials of commuter courses, and global politics.
I've got so much material swimming in my head for a novel or two. I love being in Owen Sound. Not only is it good to be with my fam, but there is an endless source of character inspiration to be found simply by wandering the streets. E.g the lady with the single, 3 foot long, 6 inch wide dreadlock that looks like a racoon hanging down her back. My hairdresser today said this lady is 'legendary' around town. It's a sight to see, that's what it is.
I plugged my new guitar in for the first time today. I borrowed an amp from a 10-year-old and he made my day. It sounds incredible! Seriously, I may be lacking in any skill right now, but the second I plugged it in, I felt born to play the electric guitar.
Time to go and pack up my things.