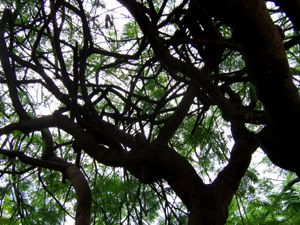 I must admit my bias:
I am unashamedly idealistic, and annoyingly optimistic. Sometimes I feel bad about that. To clarify: I feel that my light-hearted descriptions of life in Mwanza are not...right. There are so many socially-embedded problems here, and a state of medical emergency that I cannot begin to fathom. But the people of Mwanza do not bow to the poverty and disparate conditions in which many of them live. They are a proud culture and they are extremely hard-working, kind and vivacious. For that reason, don't feel that I am disrespecting them to write accounts of daily life. I am writing as a young, Canadian woman who has no previous experience in a situation like this. I am simply conveying what I see and how I feel. I want to share this with you all, and provide a window into life as I experience im Tanzania.
The last few days have been packed with activity. When I last wrote, I was just about to talk about my Saturday afternoon experience when the internet rudely cut out. Samahani (pardon me). To escape the cabin fever I was battling, I went for a long walk. Don't worry everyone, it was bright out and safe. I walked up Bugando hill towards the large hospital. When I reached the top I came to a gap in teh houses and buildings. I'm sure people have left this space clear out of generosity, as the view was breathtaking. Lake Victoria sprawled out below me, with rocky peaks protuding from the water, vanishing into the distance like early morning dreams. The sky was full of birds (mostly brown ones with yellow beaks, grammie and grandpa) and bougainvillea curved around the barbed wire fences atop the hill. I stopped for a while, wished I could shared the view with someone, then kept walking.
Before long I came to a dirt path, which snaked through many villages. All of a sudden I heard a sound so ethereal that it made me stop in my tracks. A bunch of kids saw me staring and asked if I wanted to come and have a look at where the sound was coming from. They led me to a church and an elderly couple ushered me right in. Before I knew it I was sitting in the middle of an Africa choir. A book of hand-written songs was thrust at me, and I was encouraged to jump right in. So I was thinking, "Oh 11 years of music lessons, don't fail me now!" Luckily it was pretty easy to follow the melody. The words, however, were in kiswahili, naturally. So I followed a long as best I could. The whole time I kept thinking of the mr. Bean Sketch where he goes to church and tries to sing along.
(side note: I literally have ants in my pants right now, so give me a minute to solve that problem)
Anyways, after about half and hour I left the choir practice quietly, only to be followed by the director and brought back inside. "Please come back, child. You are most welcome!" When I reentered the room, everyone stood to greet me. "We could like you to join our singing group," he said, smiling broadly.
I blushed so much and introduced myself in broken kiswahili. I don't know what I said wrong but I had them all laughing hysterically. Joke was on me. SO I agreed to join, and that is where I will be at 4pm on Saturday from now on. Again, the kindness is unbelievable here.
Other than that I've been getting to know the Kivulini staff and learning about ther mandates, working closely with the mamas to make quality yogurt and working VERY hard to learn Kiswahili. I signed up for lessons this week.
For fun I have been continuing my aerobics classes at the New Mwanza Hotel. I really love these classes, as only about 5 of us go, and the instructor (the kickboxing champ of Tanzania, a man whose name translates to "funeral" and says "reft" instead of left) is awesome. The gym smells horrible, but the 30 minute remix of "who let the dogs out" can distract from any smell.
We've made some very nice friends from the medical research centre who are from the UK: Jenny, Ian and Louise. Also, Vicky from Kenya has been a gracious host. Last weekend she and I conversed in Italian for a good while. It was a nice break from a language I'm currently terrible at. Last night we all got together for some delicious homecooked food and African red wine.
I feel like all of the love I carry with me from home is here, and present in every second of the day. It's like my love for home and my growing affection for Tanzania are swirling together into an inspiring wind. I couldn't be here without all the support from home. Thank you.
Today was a long and fascinating one. I'll describe in greater detail tomorrow but for now: Some pics: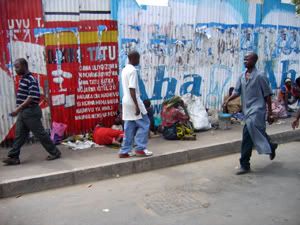 Busy sidewalks in town. This is on my walk from home to downtown. There are lots of beggars and street kids on this strip. Pretty tough.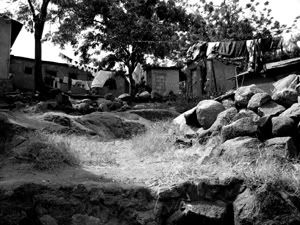 Mabatini, the neighbourhood where our yogurt mamas live.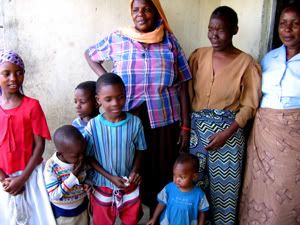 Mama Joyce (in plaid) and some of her family. She is a great woman and has been really kind to me.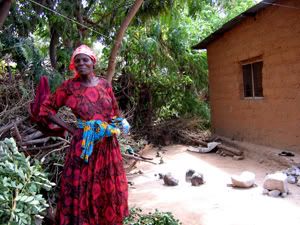 One of the women we interviewed today. I'll explain soon.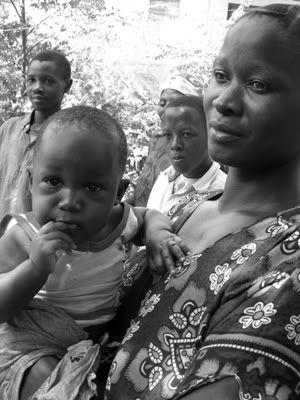 A beautiful mother and baby.
And...
On a purely personal note, (but I can't help it) you want to know one of the most challenging parts about being here? Being oh so far from the guy I am crazy about.
Go
here
to check out what he's been up to :)
Til tomorrow...