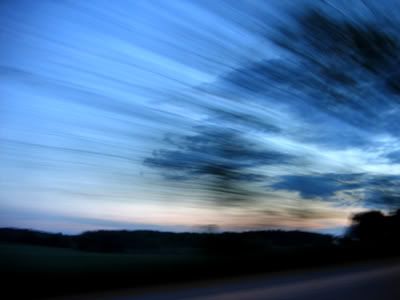 this was actually taken in Canada, on the way from Burlington to Owen Sound.
Today, Friday the 22nd the official half-way point of my internship. How does that make me feel?
Like I have begun to see a whole new world, but have so much left to see. Like I am getting used to being away, and brand new hunger for more travel is starting to build up inside me.
I bought Quaker Dino Eggs oatmeal. It was 6 dollars. How did that make me feel when you can eat a meal at top-end restaurant for less than that here. Hmmm?
The other night we were invited to a Street Leader's house for dinner. He arranged for a pickup truck to take us to his house and I wondered how he would get there. Little did I know, the guy was standing in the back of the truck. You can imagine the yelp that I let out when he popped his head in my window!
in the kitchen
Once we got there, I joined his wife and mother in the kitchen to help make dinner. This is not usually done, as guests most often are ushered into the living room and given the best of whatever the family has. I really wanted to see how everything was made though. They thought I was pretty hilarious, struggling to speak only in Swahili. We had a really nice dinner with the whole family. This man was a politician so his family was wealthy enough to have a t.v. and I was treated to seeing The Dears come on MTV. Small world 'tis.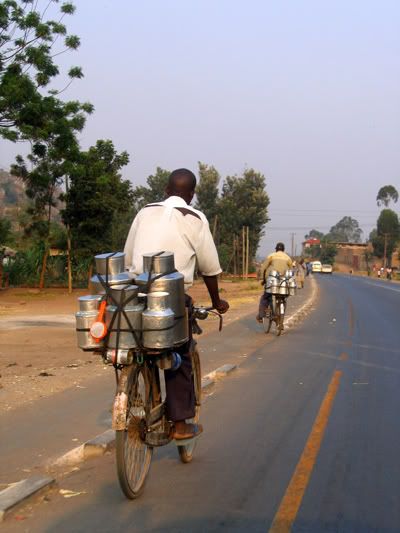 milk delivery boys
Yesterday I went to St. Augustine Seminary to attend an awareness workshop on domestic violence. The facilitator, a charismatic man named Solo, taught about the "causes" and effects of domestic violence. Opening the workshop with the statement, "Domestic violence is just a part of African culture. Why is this so?" he urged all the participants to contribute their thoughts on the cultural roots of domestic violence. Through role-playing, brainstorming and group discussions, we explored how domestic violence affects the family, local society and Tanzania on a national level. It was very strange to discuss violence as such a pervasive presence in the home, but it was eye-opening to hear people's ideas for ways to stop it from continuing.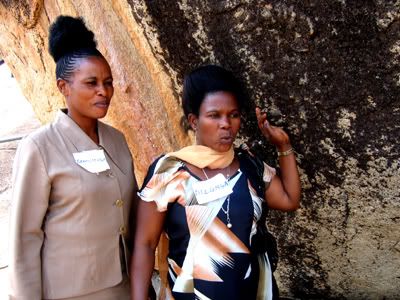 community volunteers at the workshop
The seminary was situated on top of a mountain. During the lunch break I walked down to the edge of a cliff and all of a sudden the landscape opened up and swallowed my senses whole. I was speechless as I gaped at the sprawling valley below this point.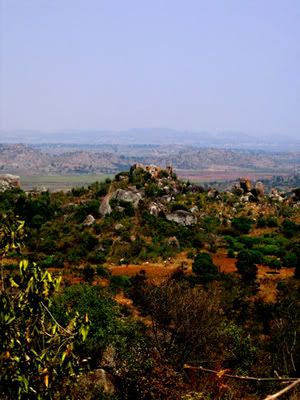 outcrop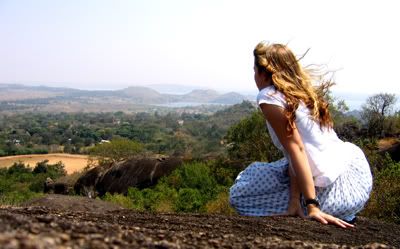 overlooking the scenery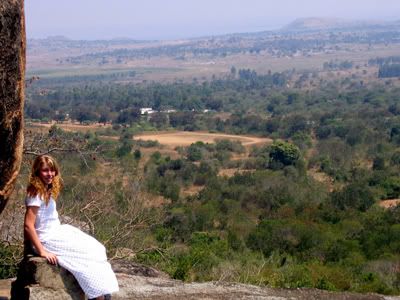 to scale!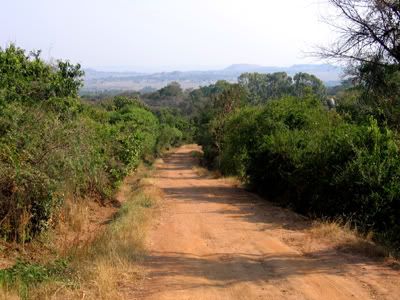 path down from the seminary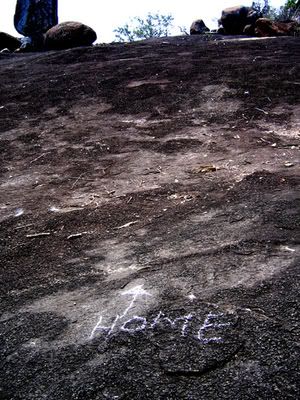 homeI thought this was interesting
On half and half:
Halfway through, I am partially "in" Tanzanian culture. But I am just dipping my fingertips. Canada is always present with me.
Life can become comfortable anywhere, if you want it to, if you let it. Shed your inhibitions and cultural baggage so as not to tamper with your full immersion, but don't forget what you care about. It's easy enough to conform to a different cultural rhythm or mentality, but what have
you
been taught and where does your own country stand on a given matter? How far should you reach to take in another cultural philosphy and how tightly should you grip your own?
What feels right? Forget what you've been taught and remove yourself from teh paradigm of your homeland. Is there anything here (elsewhere) that feels especially right? Is there a common ground between the two?
Are we so advanced that we've left Tanzania (literally) in the dust? Africa is an ancient land full of mystery and rich history...full of people like me, and not at all like me. Sometimes the landscape here--mainly the urban centres-- feels eerily post-apocalyptic. But then you drive 5 k into the country and it is newborn, uncultivated. Is life primitive in Tanzania or has it advanced too far and collapsed unto itself.
"Hamna Shida," said the treat leader. "We always say we have no problems (think hakuna matata). And yet, we live here surrounded, drown[ing] in our problems."
Everyone is leaning on eachother for help (and yet) all the while each person looks out for himself.
I still say I am just an observer, and there is still a lot to look forward to on this journey.