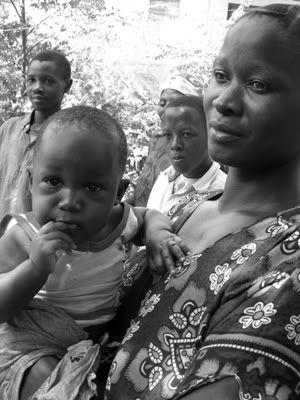 I sent this out as an email, but I want it to reach as many people as possible.
For those of you who know me, you know that I spent the summer of 2005 in Mwanza, Tanzania. I imagine it might sound cliché when I tell you those 3 months changed my life, but I mean it in the most literal way. My experiences in Mwanza—the people I met, the lives I saw a glimpse of—have changed the course of my life.
For example, after graduating from Western, I decided to continue my education in order to begin my lifetime role as an activist against HIV/AIDS. I have already started my program, and if all goes as planned, I will be spending the next 2 years or so writing my thesis on how Canadians can help fight HIV/AIDS using tools of communication technology such as the internet.
So I guess this is a beginning, of sorts.
Today is World AIDS day, and the holidays are approaching. This year, I am raising funds to send to my friend, Sikitu (she's in between the mom and baby in the photo here). Sikitu is my age. She contracted the HIV virus while caring for her dying mother. She lives in a small house on Bugando hill, underneath the main hospital of Mwanza, yet she cannot afford anything the hospital can offer her. However, for 40 cents a day or so, she could afford antiretroviral medication.
This is why I want to send her money. I will be sending her some of my own savings this Christmas, and I know it will reach her directly, because I have 2 friends (
Rob and Sam
) who are in Mwanza now, and have offered to take the money to Sikitu.
I am asking for anyone and everyone who reads this to consider sending me $5 to contribute to my fund for Sikitu. If you are willing, you can send cheques, cash, money orders, anything to:
Dallas Curow:
(address removed for privacy reasons. if you wish to contact me, please do so at
rationalpassion@gmail.com
)
For those of you who don't know me well, or aren't that familiar with my experiences in Mwanza, you can check out my Tanzania website.
If you're interested, you can also read about my experiences
here
,
here
and
here
, and in
The Gazette.
If this doesn't fit your bill, I urge you to check out some of the other World AIDS Day campaigns. For example, you can also see the worldwide (RED) campaign
here
Thank you for your consideration.